All Sauces, Dough, Meatballs and Menu Items Prepared Fresh Daily
Mama Mia Pie & Pasta – Pizzeria & Restaurante
Experience the authentic flavors of old-world Italy in Canaan Valley! Mama Mia Pie & Pasta offers unforgettable handmade pizza, Italian foods, and full bar in the heart of Davis, WV. We invite you to enjoy this wonderful tradition with our classic Italian recipes.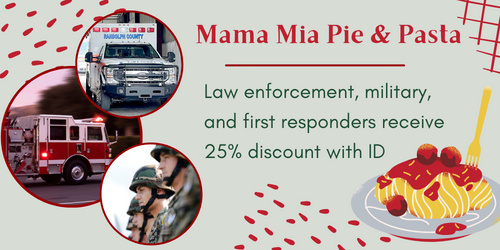 Monday & Tuesday
Large Cheese Pizza
w/ One Topping
$14.00 plus tax
(Take-out & Cash Only)
Dine-In
Take-Out
& Catering
Dine with us in Davis, WV, or enjoy a taste of Italy to-go! Love our old-world Italian sauces? Grab Mama Mia's famous homemade Sauces To Go to add authentic Italian flavor to your pasta dishes at home. Order your favorites today!
DINNER SPECIALS
Treat your family and guests to the wonderful flavors of Mama Mia Pie & Pasta with our dinner specials. Pick up a large family-sized takeout tray with salad and garlic rolls at a great price. Choose from 8 delicious Italian classics!
We enjoy serving delicious homestyle Italian meals prepared with care in our warm, family-friendly atmosphere. The Mama Mia family looks forward to sharing our passion for all things good with you and your family at our comfortable restaurant and bar in Davis! Come on in!

Delicious Italian Comfort Food & Tavern
Canaan Valley, WV
Visiting Tucker County, WV? Stop by Mama Mia's after hitting the slopes for a delicious home-cooked Italian meal prepared with care. Stay awhile and socialize at our pizzeria with full bar. Mama Mia Pie & Pasta is conveniently located just a short drive from Canaan Valley Ski Resort and several of Canaan Valley's top business and vacation travel destinations!